renovation of a hotel in vietnam
in a suburb of cao lãnh, a town in southern vietnam filled with lush greenery and sprawling fruit gardens, bloc architects is completing his duyen casa ii hotel. the project results from the renovation of an existing house that has been organized with an L-shaped plan. transforming the structure, the design team presents a new plunging roof of ornamental brick that encloses the long wing. this space houses the five guest suites of the boutique hotel while the short wing is enclosed by a tin roof, expressing the origins of the building.
images © quang dam
the delicate brick facade
with its duyen casa II hotel project, block architects (see more here) works with local artisans in the Vietnamese village. the team comments: 'we started by visiting artisan villages, getting to know the local building materials in order to find a solution for the appropriate design and building materials. inspired by handicraft knitting techniques, we use tiles, round steel bars and bricks to knit smooth curtains to cover both parts of the house.' these seemingly delicate 'earth' curtains define the façade and act as passive cooling brise-soleils.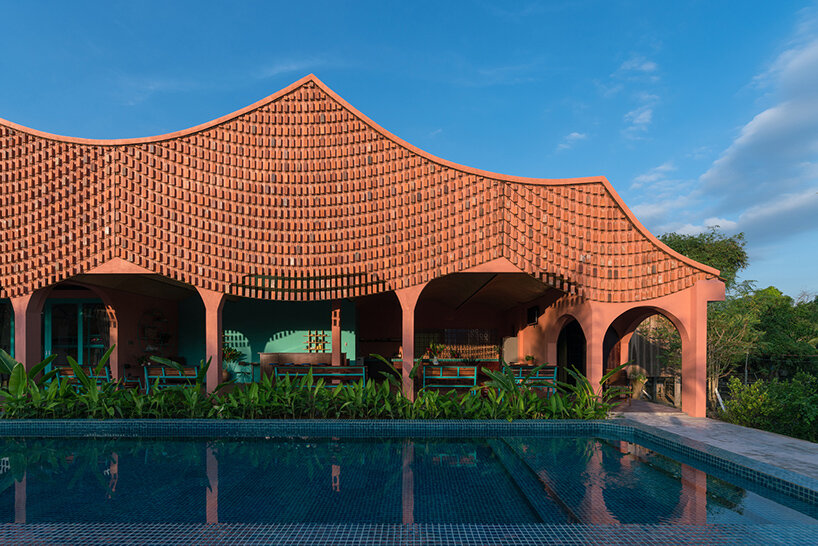 the organization of the block architects' duyen casa II
in designing the hotel duyen casa II and renovating the existing house, block architects kept most of the load-bearing structures and partitions. the lobby and suites open wide to the east to overlook a palm-lined front courtyard, while a shared kitchen and common area face the pool. The compact hotel has three bedrooms that sleep two people each and two "dorms" that sleep five people each. while the finished materials and furnishings come from local factories and workshops, the renovation incorporates materials that had been left over from the original house and repurposed.