Lacemaking is something that unites the countries of Europe, explains the woman behind a current craft exhibition in Lefkara. ALIX NORMAN find out more
If you had to organize a Ferrari show, you would do it in Italy, right? A gathering of watch enthusiasts would probably be the best in Switzerland. And a convention of chocolate lovers – well, Belgium is the obvious choice. So it makes perfect sense that a new European lace exhibition is taking place here in the world-famous Lefkara lace-making center in Cyprus.
Entitled European Lace, the exhibition was organized under the auspices of the Portuguese Presidency of the Council of the European Union – a rotating presidency assumed by Portugal during the first half of this year. The exhibition honors our common European social and cultural identity, highlighting the common culture that unites the peoples of Europe, while highlighting the importance of preserving traditional arts as a means of sustaining local economies.
Taking place at the local Museum of Traditional Embroidery and Goldsmithing in Lefkara, the exhibition presents the finest examples of lacework from all over the continent: punto Greco from Greece, Idrianische Spitze from Slovenia, Hedebo from Denmark. Contributed by the embassies of 28 European countries, the samples of European lace bear witness to our common cultural heritage and our shared love for fine craftsmanship; a well-known craft in Cyprus, thanks to the famous Lefkaritika.
"The exhibition was produced under the inspiration of Lefkara, whose craftsmanship projected Cyprus far beyond its borders," explains Portuguese Ambassador to Cyprus Manuela Bairos. "As in Lefkara, all European countries have received and inspired hundreds of lace centers in Europe and thousands of designers and artisans, making the lace industry a prosperous economic activity and an important part of the European social and cultural identity. .
"For centuries," she adds, "lace has been one of the most expensive household items, either to enrich the dowry of young girls or to satisfy the sophisticated tastes of the aristocracy; today, its production is limited and preserved mainly thanks to public or private efforts to protect this extraordinary form of cultural heritage and testimony of a past that we all share in Europe.
Many of the best examples of lace making across the continent have been inscribed on Unesco's list of Intangible Cultural Heritage of Humanity, one of which is Lefkaritika. But while the iconic Cyprus lace is one of the best-known examples of craftsmanship in the world, other countries have long produced such intricate and magnificent work …
When we think of Shetlands, images of sturdy people weaving heavy wools and tweeds come to mind. But these secluded British Isles are also renowned for their delicate lace shawls and stockings – spider confections knitted from air and magic, endorsed by royalty and shown in world exhibitions. Then there's Romania – a place of medieval fortresses and primeval forests – which has, over the years, produced some of the finest iglita (crochet macrame lace) in Europe, inspired by fine Reticello lace from the Renaissance. And from Ireland we get needle lace (characterized by raised edges and a delicate mesh bottom): a form practiced originally by the Ursuline nuns of the country and later, in times of famine, a much needed source of income for women working across Europe.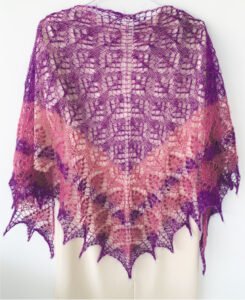 "Some of these pieces come directly from the families of the ambassadors," reveals Bairos. "The Spanish mantilla belonged to the grandmother of the Spanish Ambassador to Cyprus. There is another beautiful piece from France, an intricate head covering, worn by a bride on her wedding in 1955. And a remarkable spindle lace collar of Maltese silk… "
From Portugal itself, we get an elegant cape embroidered with wheat straw – a haute couture item made in the Azorean lace tradition. And from Cyprus, a prime example of Lefkaritika tablecloth – each piece is displayed in a display case due to the fragility and value of the work.
Sourced by the embassies of each country, this collective diplomatic effort has produced a multitude of fascinating exhibits and is well worth a visit. "Each piece is unique and I love them all," admits Bairos. Long a craft lover, she describes the exhibition as "small but very beautiful. Lacemaking is something that unites the countries of Europe, "she continues. "These are different interpretations of the same tradition.
With at least one sample from each country (more when different lace-making techniques are showcased), European Lace highlights a traditional craft that, without the concerted efforts of the government, might have gone extinct. Bobbin lace, cutouts, lace embroidery – it all started in the Middle Ages, with Venice at the center of this new art. Pattern books were printed as early as the 1500s; a century later, high-quality lace was practiced all over Europe. Nobles and traveling women spread this new fashion, and lace quickly became a much sought-after accessory. But at the beginning of the 19e century, the industrial revolution had put an end to much of art. The machines were capable of producing lightweight netting patterns, direct copies of painstakingly hand-made lace, and many traditional artisans were out of work …
Fortunately, over the past few decades, a resurgence of interest in the beauty of handmade lace, coupled with the efforts of various European agencies, has allowed the craft to flourish once again. Today, lace-making is undertaken for the purposes of challenge, recreation and homage to our past.
"This exhibition is intended as a modest tribute to the countless women and men who, over the centuries, have put their skills and talent at the service of this formidable European tradition," says Bairos. "The making of lace – which began so many centuries ago as a thriving economic activity – has now become a celebration of culture; part of the heritage of Europe. Our common heritage. And this exhibition, a collective effort, unites us.
European lace is hosted at the local museum of traditional embroidery and goldsmithing in the village of Lefkara until June 30. Free entry. For more information call 24 342326